Domenico Scarlatti: An Introduction
Domenico Scarlatti has been a part of my life ever since I first heard his music as a tween.
Scarlatti, along with GF Handel and JS Bach -- all born in 1685 -- are considered the giants of the (late) Baroque era. Scarlatti , for understandable reasons, is the least known of the three. Handel and Bach were inveterate self-promoters, were at the musical centres of their respective locales, composed wide varieties of music for many venues, and their music was widely published. (And, of course, they were musical geniuses. Though, it must be said, JS Bach's reputation wasn't as great in his time as GP Telemann's, and later by his second son, CPE Bach (one of my favorite composers). It was only later (mid 1800s) that Bach's music was rediscovered by the Romantic composers that he attained his modern reputation.) Scarlatti, on the other hand, when not gambling (the Queen paid off a lot of his gambling debts), or spending time with his family, was a humble Court servant: he spent the majority of his adult life out of the public eye, having secured a position as one of the court composers (and not even the most renowned one!) at the out-of-the-way, reclusive Spanish Court, mostly in service to the Queen as her personal composer. The vast majority of his music was unpublished in his lifetime, and most of his compositions were written for a single instrument, the harpsichord, that soon went out of favor with the development of the piano.
So it's not too surprising that Scarlatti wasn't included in this triumvirate of the Baroque greats until the last century. His music was only gradually discovered many years after his death, and only after it became more generally known has his reputation grown to its current stature.
This isn't to say Domenico wasn't completely unknown in his time. He was one of ten children of Alessandro Scarlatti, then the most famous opera composer of his time. Domenico's father took an active role in introducing Domenico to the musical public. Before he was cloistered in the Portuguese and Spanish courts, he was known in certain circles primarily as a brilliant performer. Queen Barbara (then the Princess of Portugal) discovered Scarlatti on a trip to Italy. (Her Royalness took harpsichord lessons from him, which eventually led to an offer he couldn't refuse.) Those who heard him perform were unanimous in their praise, and never forgot him; indeed he developed a small but devoted coterie of admirers, much as modern rock bands have worshipful fans before they hit mainstream success. Even Handel became a fan of his after Scarlatti bested him on the harpsichord in a famous impromptu competition between the two of them. (Oh to have been there for that!) Its these steadfast followers of his who were responsible for promulgating Scarlatti's name after his death that eventually led to his posthumous (re)discovery.
I first came across his music thanks to Wendy Carlos. Her album Switched-On Bach was enormously popular, a surprising break-out hit. She followed this with another popular album The Well-Tempered Synthesizer, which contained four of Scarlatti's sonatas. Carlos's albums came out at the height of the hippie era. She popularized the Moog Synthesizer with her interpretations of some great Baroque tunes, which were no doubt incredible head-music for stoners and trippers. I was too young to experience the music this way, which is not to say that I didn't get my own kind of pre-teen highs from such music. And thus was Domenico one of the composers who turned me onto music. Though he's drifted in and out of my attention over the years, he's always accompanied me. (Indeed I had a beautiful, sweet, affectionate black cat I named Scarlatti. He often slept on my chest. His ashes are in a little urn on my bookshelf. I still miss him...)
A few years ago I finally acquired the complete recordings of his 555 Sonatas performed by the brilliant harpsichordist Scott Ross. Ross was the first musician to perform the complete sonatas. I already had a few dozen on LP, so I was thrilled to finally get them all. This 34 CD release was a milestone in the history of classical music recordings. Ross's performance of the sonatas combine technical prowess with profound sensitivity, insight, and understanding. These recordings are rightfully considered "remarkable" and "unprecedented" by many classical afficionadoes (myself included, obviously ;) ).
So for the past couple of years I have imbibed these sonatas with great enthusiasm, discovering a wealth of musical gems that continue to amaze me. And gems is right -- each piece is a gem.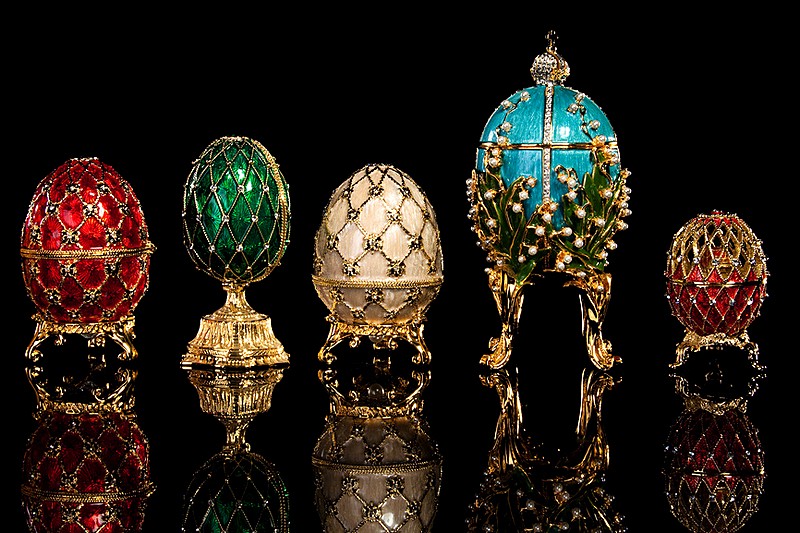 In such a large cache of gems a few invaluable diamonds can be found, quite a few more stand out as obviously more polished, rare, and precious than others, but each one sparkles in its own way. Or, to continue flogging a now dead horse, instead of building cathedrals (JS Bach), depicting sunrises (Grieg), exploring mythological archetypes (Wagner), disclosing our existential condition (Schnittke), etc., Scarlatti fabricated 555 exquisite Fabergé Eggs.
We have his patron, Queen Barbara of Spain, to thank for this remarkable largesse. She was an accomplished harpsichordist, and, though he fulfilled the many duties required of a court composer, it seems Scarlatti's most important service was to compose sonatas for her Highness's personal enjoyment. Without the constraints of having to appeal to public tastes to earn his living, he was free to innovate and explore the potentials of musical expression within his contemporary idiom for a benefactor who couldn't get enough of them. Plus, he was immersed in the unique Iberian musical soundscape that had rhythms and harmonies not heard elsewhere in Europe. The result is some of the most unique, daring, and astonishingly individual music of its time, perhaps of all time.
Scarlatti is one of those artists who found tremendous creative freedom in rigorous structures. His creative invention with these sonatas is vast; and yet, with few exceptions, his musical experiments are contained within a very tight binary structure. And no matter how wild his experiments get, he never loses control, distilling the musical ideas to an expressive elegance shorn of flabby excess. (Indeed the sonatas probably average around less than 4 minutes in length; the shortest is less than 30 seconds; and the longest, I believe, is less than 13 minutes.)
But to me the thing that makes his compositions so compelling -- beyond their other obvious merits -- is his extraordinary sense of pattern: his music seems to me almost algorithmic. His compositions somehow make the harpsichord produce a wall of sound full of intersecting, interlocking, cascading patterns. It's like he's drafting complex geometrical soundscapes. Listening to Scarlatti creates sensations in me in a way that no other composer does so vividly: sometimes I get a powerful sense of a musical fabric tesselating time itself; other times I feel like I'm listening to some kind of magical, beautiful, musical state machine (eg: K 219). No other composer makes me experience pattern the way he does. That's why I find Scarlatti's Sonatas perfect candidates for visualizing as procedural computer animations.
For a little flavor of the range of his creative genius, here's a tiny sampling of Domenico Scarlatti's 555 Sonatas.
Note: The K numbers are for Ralph Kirkpatrick, musician and scholar, who catalogued the Sonatas. He also wrote the definitive biography of D. Scarlatti, which was a great read.
Aleksi
Fri, Apr 13 2018, 21:30:42
0 Comments
---
---
WHAT SAY YOU?